We started in September 2018 – founded by Dominic – with the idea of bringing live-stream production services to small and medium businesses, using iPhones as cameras and advanced technology to bring them together into a mobile production system.  Literally weeks later, the first booking came in from someone in the events industry and we've never looked back.
During the first 18 months we worked on events in locations from small offices and meeting rooms through to conference centres, the Olympic park and The Great Room at Grosvenor House…and then things changed…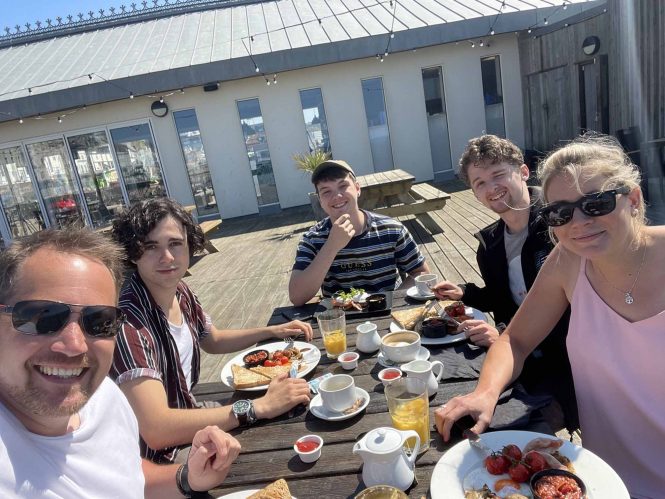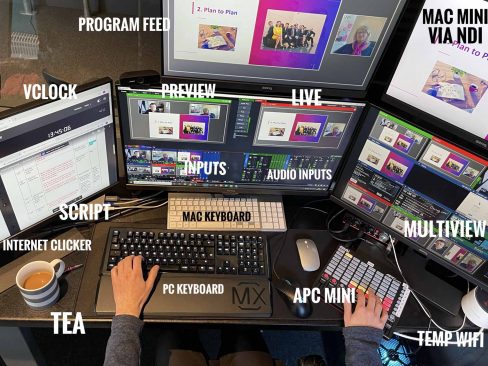 The technology we used for live production had functionality in it that meant, when the pandemic hit in 2020, our transition to virtual events was very simple – no learning curve – just a change in locations.
As the pandemic deepened, demand grew and so did the delivery team who, in the 18 months from March 2020, produced more than 1,800 hours of virtual content!
We also made more investments in technology, built a small studio and switched production platforms to accommodate larger events with more complex requirements.
As the world started to return to normal, requirements shifted and, once again, so too did the events world – and we were ready for it!
We'd been doing hybrid events since we started – we were doing hybrid events before they were cool – but now the industry is adopting them as a standard. We've advised many people – clients and non – on how to adopt hybrid and the different forms they take and we're actively working on hybrid events that extend months ahead.
Alongside delivering live, virtual and hybrid events, is the more traditional side of videography – whether that's pre-recording pieces to camera, interviews, testimonials, and vox pops or promotional and educational content, we handle it all. Green screen filming?No problem. Event highlights? Definitely.
If you can think of it, we can make it!
Streeem Solutions
Video production for live. For Virtual. For hybrid.
(and podcasts!)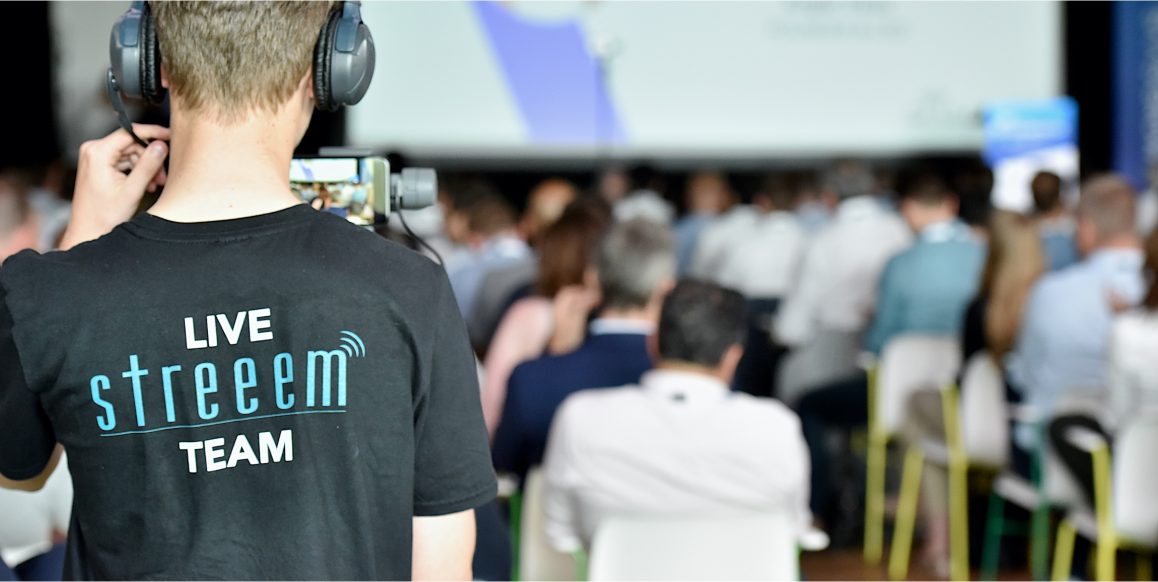 Since our inception in 2018, the clients we service have changed and, so too have the services we offer.
Although we mostly focus on the corporate and events worlds, we're a full-service video content agency offering all aspects of production from story-boarding and conceptualising through live streaming and filming, to post-production including animation and sound-design.
For virtual and hybrid events, that includes any required technical rehearsals with speakers, show build and development of custom graphics such as lower thirds and stingers.
For podcasts, we take care of everything from speaker booking and preparation through remote and on-site recording sessions, production, editing and mastering through to distribution, promotion and analytics.
We've worked locally, nationally and internationally on a variety of projects including incentive travel marketing, awards shows, conferences and trade shows as well as vox-pops, fireside chats and product demos.
We've shot interviews on the roof of a football stadium, we've abseiled buildings, ridden a water slide, flown drones and suspended cable cameras all in the name of getting the right shot.
Clients come to us not just because we're good people, easy to work with, pro-active and great at what we do – but because they trust us to capture the feeling, to grab that moment and educate, entertain or drive emotion in their audience.
As Christian Owens, CEO of Paddle, said to me right back in the early days 'this is the coolest video production company I've ever seen'. We just happen to agree!
With iPhone videography at our core, we've developed into a full-service video and podcast production agency
Dominic founded Streeem in 2018 – with no industry experience – just an idea of what he wanted Streeem to be.
In the time since, he's established his and Streeem's name in the events industry and with corporate clients.
During the early days of lockdown in 2020, Dominic provided over 150 hours of free consultancy to other colleagues in the industry, mostly covering the transition to online events as well as co-founding and co-hosting the Delegate Wranglers live show which has so far produced more than 60 shows.
While it's now rare that he gets to work on the production of events we deliver, he remains a firm figure behind the scenes focussing on operational and promotional activities. For most clients, his will be the first voice they hear!